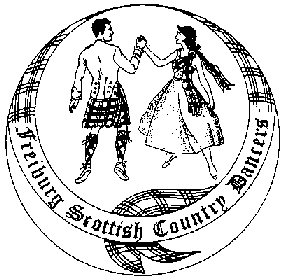 Freiburg Scottish Country Dancers

Next Midwinter Ball celebrating our 40th anniversary
again with Ilona Stitz, Christine Moos & Edwin Werner
in the Kurhaus Kirchzarten: February 17th, 2018.
More detailed Information is available now, but almost everything will be as usual.
Beginners and interested persons are welcome to contact our
secretary (see below).
As soon as we have a group large enough we will start a new beginners' group.


Regelmäßiges:

Mittwochs, 19.00 - 20.30 Uhr: Es darf getanzt werden!!


Wir tanzen im Gemeindesaal Peter und Paul in St. Georgen,
in der Bozener Straße 6 (oder im benachbarten Kindergarten).
(Google Maps oder FreiGis Map)

Alte Balleinladungen (wird weiter ausgebaut)

Tänze geschrieben von oder für Freiburg Scottish Country Dancers (wird auch weiter ausgebaut)

Ganz neu: Bilder vom Ball 2017 (Dank an Elvira für die Auswahl)

---